Temporal Bone Dissection Course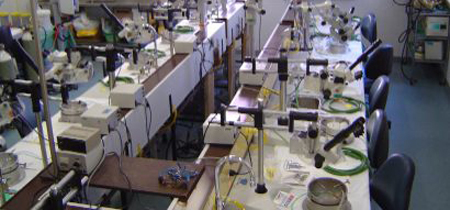 A three-day dissection course is held annually, in November of each year. In 2015 this runs from the 6th -8th. It is run by the  Otology and Skull Base Surgery Unit at St Vincent's Hospital, Sydney. There is 15 hours of fully supervised temporal bone dissection in the Clinical Skills Laboratory which has 17 fully equipped work stations, microscopes, new instruments and state of the art micro drilling systems, along with a permanent in-house audio visual facility. Live Surgery is televised via video link up to the Function Room, St Vincent's Clinic. Two sessions of lectures are also included and span Otology, Neuro-Otology and Skull Base topics and are followed by round table discussions, where the delegates are encouraged to participate with their own case studies, supported by scans, etc.
Audiology Seminar
The Live surgery Audiology Seminar is held preceeding the temporal bone dissection course. It involves a packed day of live surgery and presentations, where we find we learn as much from the delegates, as we hope they learn from us.
St Vincent's Otology and Skull Base Surgery Fellowship
There is a one year fellowship available on application. This is an operative fellowship focusing on developing high level clinical and surgical skills. Please contact Margi.Griffiths@svha.org.au for information or to submit an application.
Rhinology and Anterior Skull Base Surgery Courses
Orbital Endospcopic Workshop PDF
Rhinoplasty Course (for non-surgeons) PDF
Endospcopic Sinus/Skull Based Dissection PDF
Advancements in Rhinoplasty Core Lecture Series PDF
Sydney Rhinology Fellowship
There is one fellowship position each year and requies formal application. Please refer to our website for details about the fellowship and application:
http://sydneyentclinic.com/fellowship-opportunity/intro
http://www.asohns.org.au/fellowships
Laryngeal Framework Course
For all course enquiries and enrolments please contact:
Mrs Margi Griffiths
Research Development Assistant
St. Vincent's Private Hospital
Locked Bag No. 5
DARLINGHURST NSW 2010
email: Margi.Griffiths@svha.org.au
Telephone: (61 2) 8382 6413
Fax: (61 2) 8382 6402