St Vincent's Temporal Bone Dissection and Live Surgery Course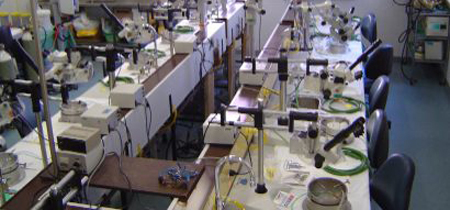 The temporal bone course is a three-day dissection course, including live surgery and instructional tutorials.
The course runs over three days in early November each year, and is preceeded by the Live Surgery Seminar for Audiologists.
The course is convened by the Otology and Skull Base Surgery department of St Vincent's Hospital, Sydney, Australia, comprising of Prof Paul Fagan, Dr Nigel Biggs, Dr Phillip Chang and Dr Sean Flanagan. There are 15 hours of fully supervised temporal bone dissection in the Clinical Skills Laboratory which has 17 fully equipped work stations, microscopes, new instruments and state of the art micro drilling systems, along with a permanent in-house audio visual facility.
Live Surgery is televised via video link up to the Function Room in St Vincent's Clinic. Two sessions of lectures are also included and span Otology, Neuro-Otology and Skull Base topics and are followed by round table discussions, where the delegates are encouraged to participate with their own case studies.
Audiology Seminar
The Otology and Skull Base Surgery Department run a one day course comprising of live surgery and interactive lectures aimed at audiologists. It is an excellent opportunity to gain an insight into the surgical and non-surgical management of complex ear pathology in a collegiate atmosphere. This run the day before the Temporal Bone Course in early November each year.
Cochlear Implant and Implantable Hearing Aid Live Surgery and Advanced Surgical Courses
The members of the department regularly convene Advanced Surgical courses for implantable hearing aids. This involves live surgery and supervised laboratory dissection. Delegates are made up of international and local surgeons. Application to these courses is made through the implant companies.
The 2016 Audiology Conference and Temporal Bone Course
The 2016 Audiology Conference and Temporal Bone Dissection course has just wrapped up, with the faculty thoroughly enjoying running the course to an enthusiastic and motivated group.
On Thursday Live Surgery was interspersed with lectures and case discussions covering a wide range of audiologic and vestibular conditions. Dr Nigel Biggs performed a Cochlear Implant, Dr Sean Flanagan a canalplasty and tympanoplasty and Dr Philip Chang a Bonebridge bone anchored hearing aid.
On Friday live surgery demonstrated a translabyrinthine approach to a vestibular schwannoma.
The dissectors then commenced their supervised dissection in the lab on Friday afternoon, before heading off to the course dinner.
Further dissection was completed on Saturday and Sunday morning with dissectors starting with canalplasty, extending to middle ear exploration and stapedectomy before moving to the mastoid drilling. Cochlear Corporation supplied dummy electrodes to allow practice in cochlear implantation before a labyrinthectomy, exposure of the IAC, jugular bulb, carotid artery and surgical exploration of the cochlear was completed.
Lectures in the afternoon on both days highlighting distilled surgical techniques and instructive cases exploring the fundamentals of otologic and neurotologic decision making.
 The 2017 St Vincent's Temporal Bone Dissection and Live Surgery Course and Audiology Seminar with Live Surgery is being held from the 16th-19th November.
For enquiries and enrolments for the Temporal Bone Course or Audiology Seminar  each year please contact:
Margi Griffiths | Research Development Assistant |
St Vincent's Private Hospital| 406 Victoria Street | Darlinghurst NSW 2010 |
Ph: +61 2 8382 6413 | Fx: +61 2 8382 6402 |
Email: margi.griffiths@svha.org.au